Discover
- Presentations of live birds of prey at 11:00 AM and 2:00 PM*
- Natural habitat aviairies (11 different species of birds of prey)
- Guided visit of our rehabilitation complex (every 20 minutes)
- Anatomical pieces booth (feathers, calws, skulls, wings)
- Photo shoot with live birds of prey (bring your camera)
- Natural trails in the woods (2,5 km)
- Picnic area (no food service on site)
- Depending of our vet and the birds in rehabiltation, possibility of releasing a rehablitated bird
- «Sky hunters» exhibit
- Gift shop
*Presentation can be cancelled or delayed in case of thunderstorms, strong wind or extreme heat*
Don't miss our special activities!
Follow us on Facebook and Instagram!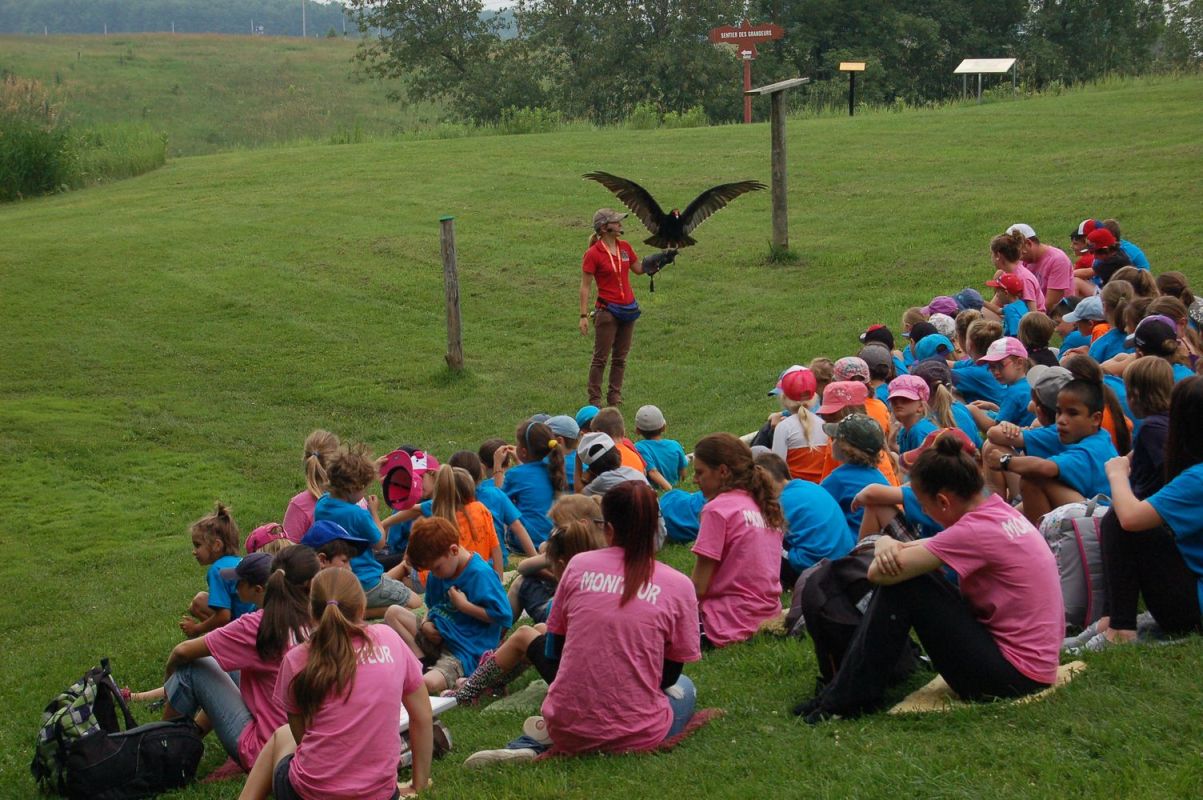 Rates and schedule
​Rates:
- 13$ adult
- 9$ child (5-12 years old)
- Free under 5 years old
- 35$ family (2 adults and children between 5-12 years old)
- 12$ senior citizen (65 and over)
- 12$ students
*Booking for groups over 10 people*
Itinerary: click here
Schedule:
From June 23rd to semptember 3rd, every day. Open form 10:00 am to 4:30 pm.
On weekends only : September 8-9, 15-16, 22-23, 29-30 and October 6-7-8.
Your itin
Special envents:
- Perseids evening, August 11th 2018
- Halloween, October 27th 2018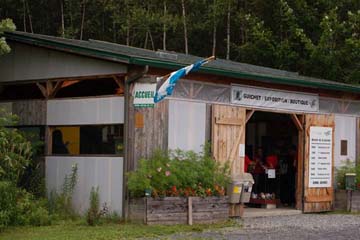 Special activities
​Special events
​

photo: Guy Fitzgerald

March Break Activity Days

When? In March, on the 2-3-4 and 8-9-10, 2019, from 10:30am to 4pm.

Rates: Adult: 13$, Children between 5 and 12 years of age: 9$, free 4 years and under, spreduced rates for 65 years and over and for students.

During the spring school break in March, bring the family to Chouette à Voir! It is a great opportunity to have access to the rehabilitation site during wintertime. Stroll along the forest paths to find presentation aviaries housing our ambassador birds of prey, visit the rehabilitation complex, bring along your snowshoes or a toboggan to enjoy the snow.

On both Saturday evenings, join us on a nocturnal safari accompanied by night owls! Enjoy the cool evening air while listening for the calls of the wild, and then warm yourselfby the fire. Dress for the chill, a small flashlight might be a fun addition.
​​

photo: Matthias Loiseau

Star gazing evening

When? August 10, 2019

Rates: to be determined

Want a magnificent place to watch for shooting stars? See the sky shine? Then you are invited to come over to the Chouette à Voir! rehabilitation site in Saint-Jude for an evening of meteor showers observation. ocated in the heart of the country, far from big city lights and pollution, this is an ideal place put your feet up and tilt your head back. Bring along a lawn chair, blanket and a small flashlight to guide your way. Evening activities will include a guided walk through the woods to visit the owl aviaries, a topic-oriented presentation and plenty of star gazing opportunities. Pehaps we will be serenated by an owl concert.
​

photo: Carl Salvail

Halloween

When? October 26, 2019. Posponed in case of rain, date to be determined.

Rates: To be determined

Come celebrate Halloween at Chouette à Voir! Fun family day time activities will include a visit to the birds of prey aviaries located along the forest trails, a peak at the rehabilitation complex, a candy hunt, some on-site make-up for the little ones and a few more halloweenesk surprises!

For the evening, a nocturnal safari, a tall tail séance, and for the brave, a trilling trail to trek! Bring along a flashlight and dress up in your favorite costume. The night awaits you....oooooooh..
Your classroom, here at Chouette à voir!
​

photo: Mylène Dumesnil

When: From the end of May to the end of June (before regular seasonal opening that starts on the St-Jean-Baptist week-end) and from the beginning of the school year in September to the end of October.

Grave level: every age group, from pre-school onward

Chouette à voir! is a great learning experience that allows students to enjoy the fascinating world of raptors!

Enjoy a birds of prey in-flight demonstration;
Visit the rehabilitation complex;
Visit the wooded trails housing the ambassador aviaries;
Our pick-nick area is ready to accomodate lots of hungry little ones.

Located at 875, rang Salvail Sud, Saint-Jude. (Map)

Early booking is recommended, give us a call or send an email!
Special Activities, available on request
Flash nature-aile

Photo shoot, our ambassadors at your service

When? Saturday mornings, during the summer, reservation required

Where: At the Chouette à Voir! rehabilitation site

Cost : 75$ for 2 hours (includes entry fee for the day)

The UQROP ambassadors are very photogenic! A unic opportunity to capture some great features that birds of prey found here in Quebec have to offer. We present several 'models' in a natural setting. A minimum of 2 participants is required for the shooting session to occur, reservations and a deposit are required.
​

«Serres»-toi de ta tête!

Birds of prey of Quebec, an identification workshop

When? Saturday after-noons, during the summer, reservation required

Where: At the Chouette à Voir! rehabilitation site

Cost: 30$ (includes entry fee for the day)

Get to know our native species of birds of prey, learn how to identify them, take a closer look at all the nuances each spiecies offers. The UQROP biologists have prepared a unic workshop for bird of prey lovers and connaisseurs of all levels. A minimum of 4 participants is required for the workshop to occur, reservations and a small deposit are required.
Map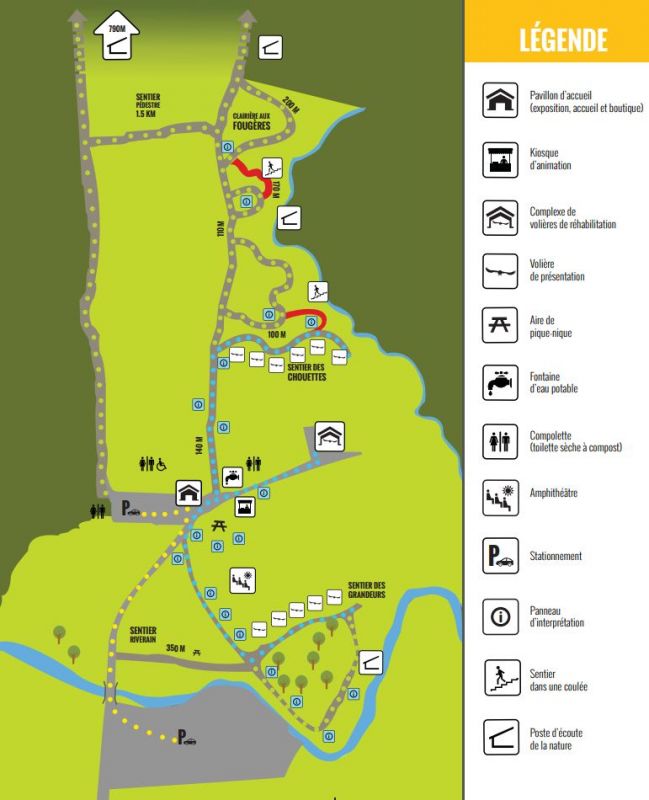 Volunteering
You want to spend an entire day outdoors and be close to birds and people? Come volunteer at Chouette à voir!
We need at least 2 volunteers every day, 7 days a week, as well as during the week-ends in September and October.
Of course, as a volunteer, you are free to come and help us as often as you want! Volunteers will follow a brief training in order to increase their knowledge on birds of prey.
You will have the opportunity to educate our visitors on birds of prey conservation and you will also be allowed to handle some of our ambassador birds.
*To be a volunteer, you must be at least 18 years-old or be accompanied by an adult.*
Concours photo
FÉLICITATIONS à nos gagnants 2018!
Le thème du concours photos de cette année était «Portraits aviaires innovateurs». Les participants devaient montrer les oiseaux de proie sous un autre angle, qu'ils soient dans une position surprenante, ou encore que le cliché soit inhabituel (ex. gros plan sur une caractéristique particulière de l'oiseau).
Le jury a été agréablement charmé par l'originalité des photos soumises. La compétition était forte! Voici les résultats du concours: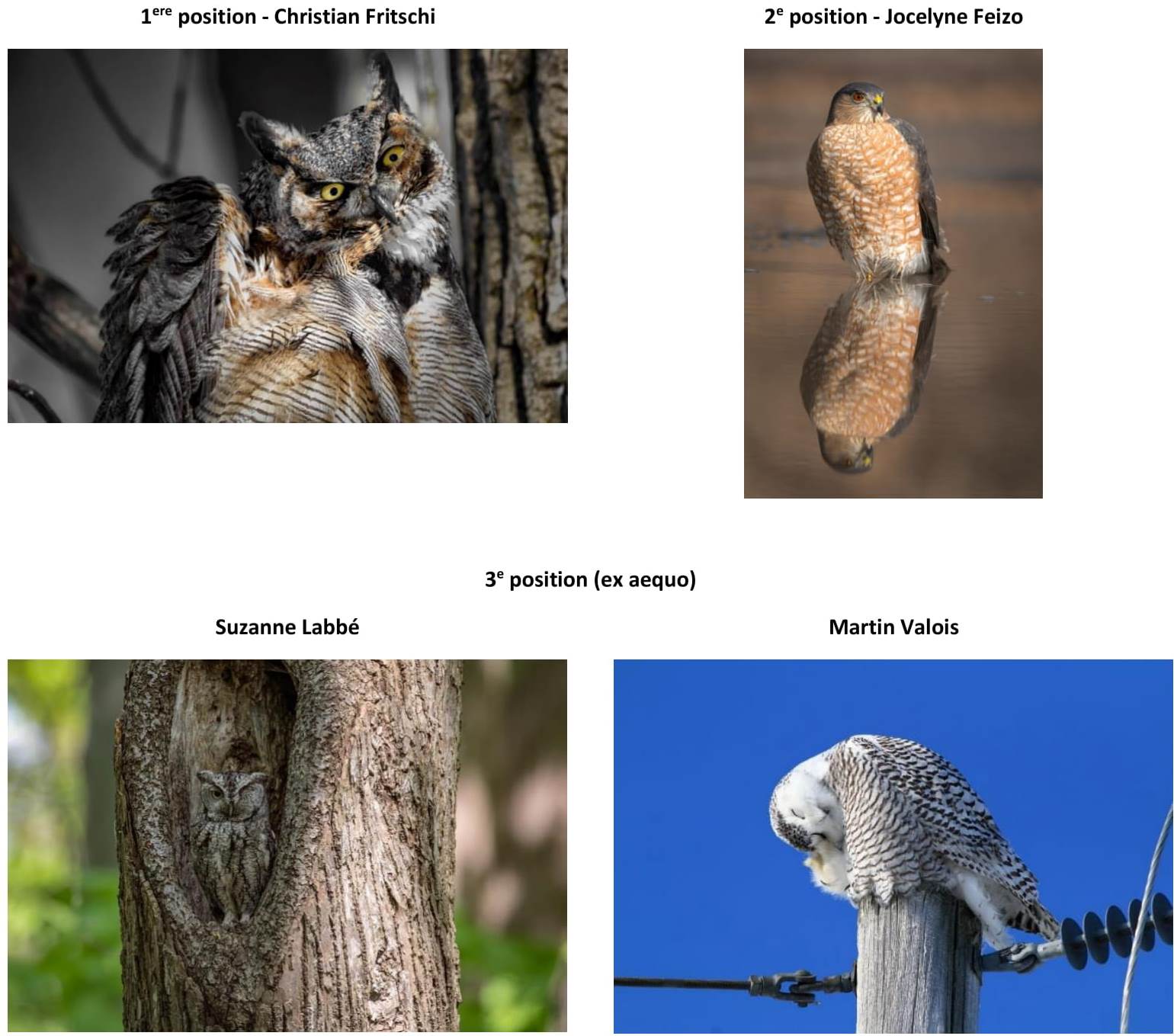 Félicitations aux gagnants et merci à tous les participants!
Pour consulter les photos gagnantes des années précédentes, cliquez ici.
Activities nearby
One-day circuit in the area: click here
What to do?
​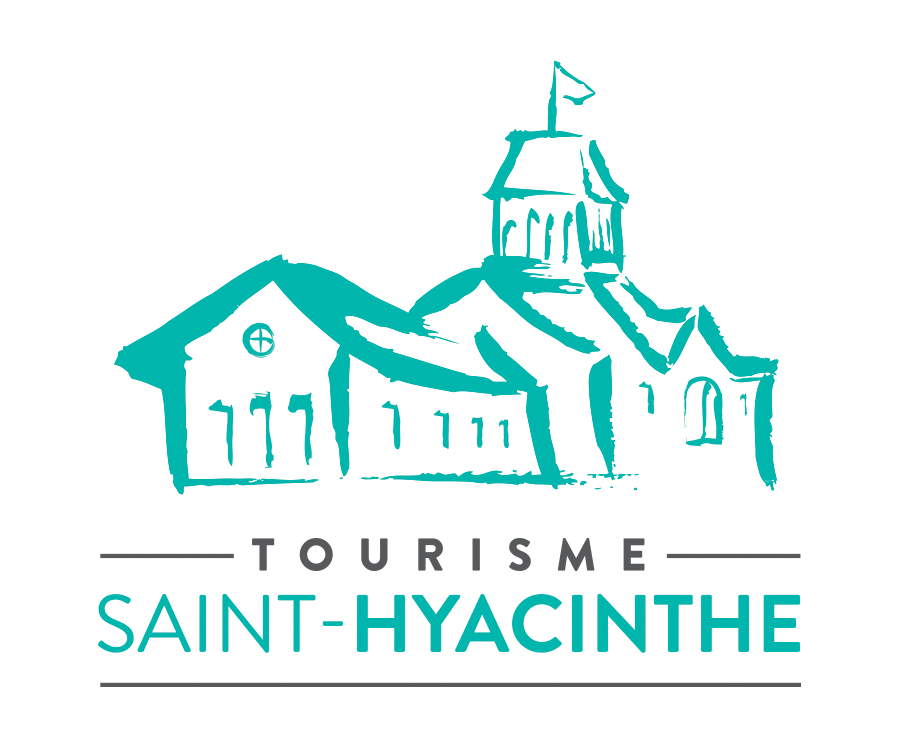 Where to eat?